Spring City Then and Now by George Olson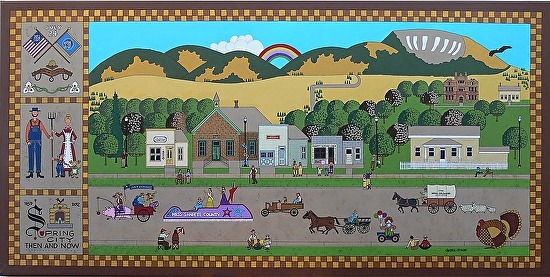 This painting represents the main street of historical Spring City, UT during the 24th of July Parade...one of the biggest events of the year. Depicted are characters and vehicles some imagined and some real in the parade. Old buildings still standing with some resurrected that had been torn down. The painting is very symbolic and represents Spring City as it once was & now is.
Giclees of any of the art shown within this website may be purchased for the following prices. Originals are identified with their prices in the web site.
8x10 $40.00
11x14 $77.00
16x20 $160.00
18x24 $216.00
These are on quality graphic canvas, unframed, plotted in archieval inks. Please contact the artists for custom sizes and pricing.
We also work on commissioned pieces. Call us at 435 671 0164, or email: www.olsongalleries@gmail.com for details.